Most restaurants can't get away with a fabulously color decor though. The ambiance of a restaurant is a massive part of why patrons come back — and building customer loyalty and retention is a huge part of developing a restaurant business.
Here we're discussing colors and how they impact your clients and what color you should use on your own restaurant.
Also Read: 5 Questions to ask from an interior Designer
Blues and Purples
We frequently hear that, subconsciously, blue and purple tones are associated with toxins and have been demonstrated to decrease appetite. Whether or not the institution with toxins is accurate, the fact that there are not many naturally blue and purple foods is used to explain the colour does not evoke hunger in people. Blue is associated more frequently with relaxation or beverages, therefore these tones are normally used in spas or coffee houses with a bohemian feel. As blues are also considered to actually suppress appetite, gyms typically use the color for their own design. All this implies that for a restaurant, the best thing to do is to reconsider shades of blue and purple.
PDF Link here
color psychology for Restaurant interiors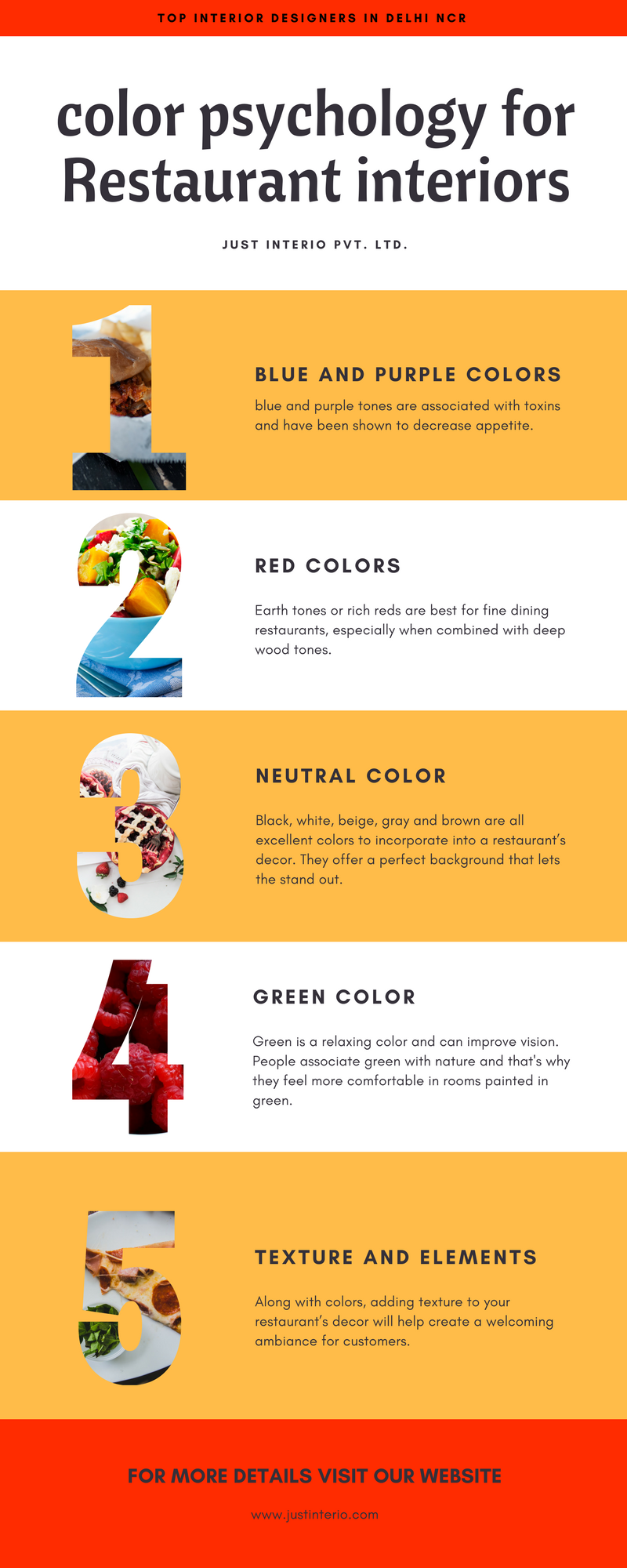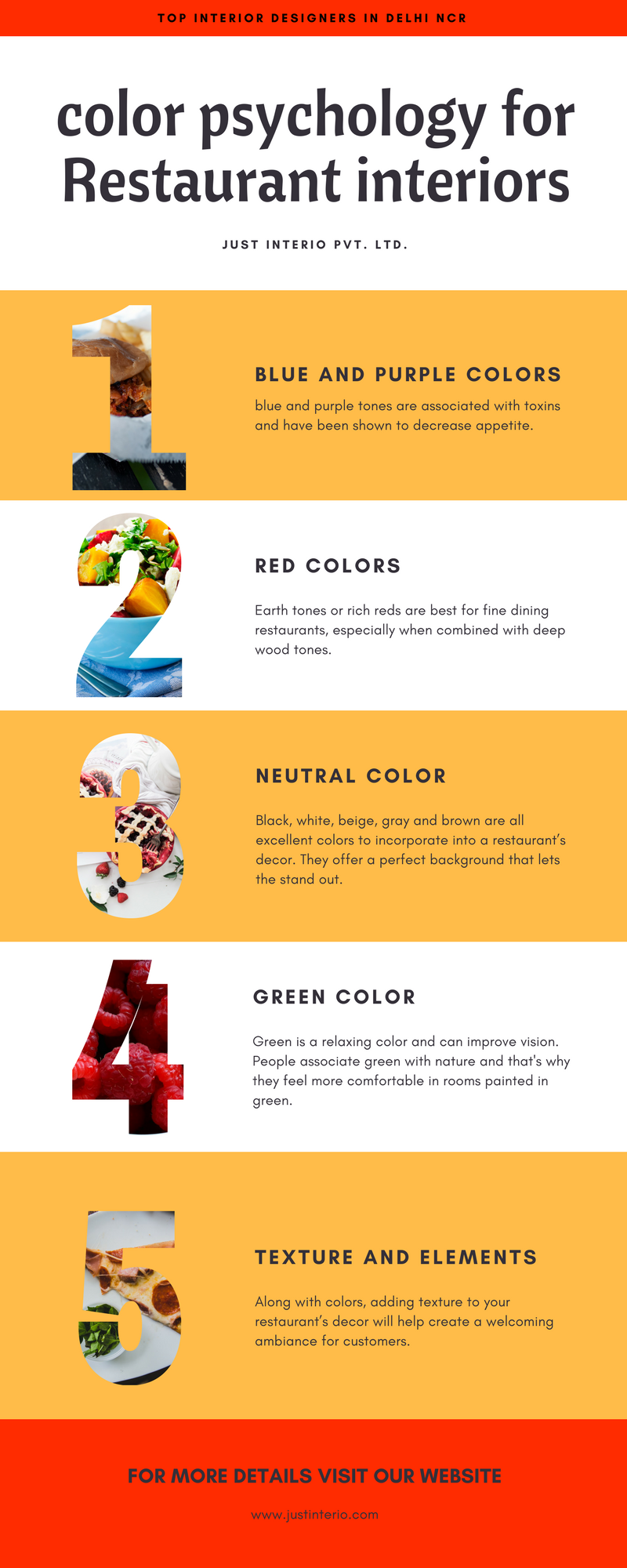 Reds
Earth tones or rich reds are best for fine dining restaurants, especially when combined with heavy wood tones. When overused, however, they can be an irritant, just like yellows. To create a more intimate environment in a larger space such as a banquet hall, dark, deep reds are a good idea. Reds and yellows are often great colors for accessories and colors within a restaurant, adding punch and playfulness to more subdued colors.
Neutral Colors
Black, white, beige, gray and brown are excellent colors to incorporate into a restaurant's decor. They provide a perfect background that allows out the stand. Black and dark browns, when used as an accent, denotes elegance–making it ideal for a fine dining restaurant. White denotes cleanliness and uniformity. When paired with a bright accent color It is perfect for quick service restaurants–think Five Guys Burger, White Castle, both of which use a predominantly white and sterile background with added pops of primary colors. Beige, gray and brown are ideal for creating a warm environment that lets the service and food to pop.
Green Color
Green is a relaxing color and can improve vision. People associate green with nature and that is why they feel more comfortable in rooms painted in green. Painting your restaurant's wall with a green colour is Recommended
Textures and Elements
Along with colors, adding texture to your restaurant's decor will help create a welcoming ambiance for customers.
Think soft gray walls, paired with polished dark wood furniture and glass sconces or earthy browns paired with copper metal table tops and green velvet chairs.
Water and fire are two other components that can create a restaurant dining room stick out. This is why many restaurants have fish tanks or alternative gas fireplace decor. Both add visual interest to the space. Both add movement and create a different feel in a distinct feel within a restaurant dining area.
Selecting a restaurant color scheme is very important because the shades you use to decorate your company can have a big effect on your customers. To pick the perfect color scheme, you should consider what kind of experience you want your customers to get in your restaurant. Additionally, for modern establishments, you may want to take into account the types of decor and color schemes which are popular. But, whatever colors you use in your operation, you should be certain that they are true to your goal.
We are an interior designing company based in Delhi NCR. We've done over 200 projects. We're known one of the finest interior designers in Delhi NCR. So, if you are thinking about hiring an interior designers for restaurant or any other commercial and residential project. Just give us an opportunity to show our skills.