Top Restaurant Interior Designers in Delhi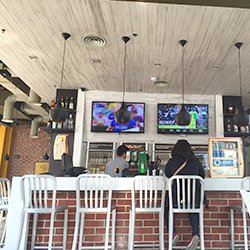 Interior design is a tremendously essential aspect of any cafe, restaurant or bar. If you are planning to open a new restaurant or trying to make renovation in the existing one. Then, Hire one of the best restaurant interior designers in Delhi. Because, it requires a lot of hard work. Despite deciding the lights to be fitted, type of floor, wall hangings, funiture and what color to paint the walls, restaurant interior is an awful lot more than that. But, what-so-ever your theme is, one thing is for sure that the restaurant should look "Trendy".
Restaurant is a place where people mainly come for an outing to enjoy the ambience and obviously tasty food. The ambience should be calm enough so that one can enjoy the meal. For designing the same, we need to take care of the proper sitting and the walk in space between the tables. Also we have to make sure that there is adequate distance between the eating area and kitchen. A Restaurant's kitchen require much more than a house kitchen . We,at JUSTINTERIO enjoy discovering new and intuitive ideas for such multi-functional areas and takes care of everything that has to do with it.
---
---

100%
Customer Satisfaction
---
---